텍트로닉스 담당자와 실시간 상담 6:00am-4:30pm PST에 이용 가능
매뉴얼, 데이터 시트, 소프트웨어 등을 다운로드할 수 있습니다.
Tektronix Services COVID-19 Update
Tektronix has been closely monitoring the development of COVID-19 and its potential effects on our supply chain. The outbreak continues to be fluid, with national, state, and local governments and health authorities monitoring the situation and updating their guidance around the clock. We remain in close contact with local authorities to align and implement their recommendations.
Tektronix customers perform mission-critical work. From ensuring life-saving medical equipment can function properly or providing infrastructure for weather service and communications systems, to supporting our national security and defense. Therefore, our business, our products and the services we provide are essential and our teams are taking all commercially reasonable actions to maintain production capabilities and make modifications with our logistic partners as needed. Our calibration service centers, for Tektronix and Keithley equipment as well as for multi-brand calibration, our repair depots, and our testing services labs are open and will continue to support your business through this uncertain time.
To keep our customers and our staff protected we have enhanced our cleaning process for incoming and outgoing instruments. Further, additional screenings are being conducted before allowing visitors access to Tektronix facilities. We understand similar screening may be implemented at your sites as well. Additional cleaning procedures are being implemented for our labs and shifts are being staggered to ensure social distancing. We are also working to provide alternatives to onsite calibration events in the form of "virtual onsites."
See our list of Frequently Asked Questions below.
If you would like to speak with a Tektronix service representative, you can reach us by email at [email protected], or by phone at 1-800-438-8168.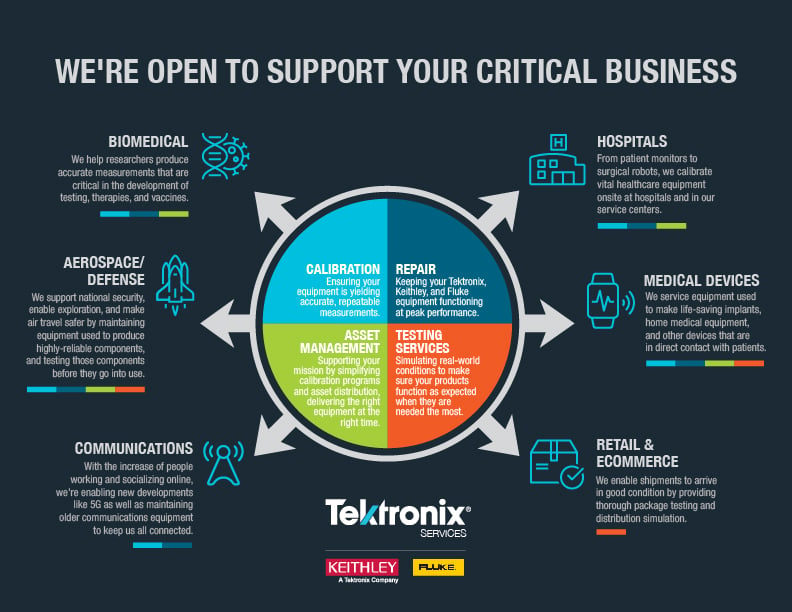 Frequently Asked Questions
Are your service centers open for business? What are your business hours?
All our service centers are open for normal business hours.
Can I still drop off my equipment to your service center?
Yes
Which locations are open?
All 29 of the service centers in the United States are open for business
Are you still doing onsites?
Yes. On-sites are dependent on state travel guidelines as well as adhering to any customer specific site policies. This includes adhering to any interstate or international guidelines such as border closures. During the planning process, any extra precautions are discussed to ensure a smooth and safe onsite service delivery. As mentioned above, we are now offering virtual onsites for customers who are not allowing outside personnel in their facilities.
What services are being provided?
We continue to provide all available services including calibration, repair, asset management, and testing services. We are also offering "Virtual Onsite" service where we dedicate the resources and standards that would have been used for onsite service, but we perform the service in our service center. Some businesses need calibration to remain compliant but are restricting outside personnel access to their facility in order to protect their employees. Virtual onsites combined with pickup and delivery service allow for appropriate social distancing where required.
How is this affecting turnaround time?
Turnaround time continues to be a top priority, but we must acknowledge enhanced sanitizing steps do add some time to the calibration process. For repair and calibration services, we are currently working both on-site and in our labs by providing flexible working arrangements to satisfy our customers' requests. However, this could change due to further travel restrictions, logistical part shortages, guidance or mandates from government or health and safety officials and ensuring the safety of our employees.
Do you still offer pickup and delivery?
Yes, pickup and delivery is being offered within the normal service area for each service center.
What are you doing specifically for pickup and drop-offs for safety?
We have adopted the recommended guidelines including social distancing.
What are we doing to make sure our employees are not infected with Covid-19?
Employees are instructed to self-identify if they are experiencing symptoms and stay home, practice social distancing, wear gloves, and wipe down our standards. Additionally, our leadership team meets daily to assess impacts and changes to procedures.
What type of PPE's are our technicians wearing?
Technicians are wearing gloves and masks depending on World Health Organization recommendations or state-specific guidelines.