텍트로닉스 담당자와 실시간 상담 6:00am-4:30pm PST에 이용 가능
매뉴얼, 데이터 시트, 소프트웨어 등을 다운로드할 수 있습니다.
Problem solving every step of the way

Learn more about the products mentioned in this story here:
When we heard about the first Swedish student team ever to try and build an electric all-wheel drive race car, we knew we had to get involved.
Chalmers Formula Student is made up of 33 young engineers who juggle their studies with building a car – one that's very nearly ready to race against in the annual competition against rival teams from Mumbai to Montreal and beyond.
We've been sponsoring the team as they design, build and test the car, spending a lot of time with Alexander. It's his second year with the team – this year, he's acting as a mentor to the other students. We wanted to hear more about his take on the challenge, so we chatted in the run up to race day.

When I was little, I wanted to be a 'Lego engineer'
Seriously! I wanted to be the person who designs the Lego houses and trucks and planes. Then as I got older, I realised Lego's too restrictive. Everything comes with pre-made blocks, so you're limited by what those blocks can do.
I guess engineering is the thing my brain does when it's not doing anything. Maybe you'd call it 'problem solving'. It's not even conscious or deliberate. When my mind wanders, I'm thinking about ways to improve everyday things around me.
I went looking for other materials to build with, and by and by, ended up here, studying engineering at university. As a side effect that lead me to mentoring the Chalmers Formula Student team.
Last year, I was part of the team when we finished on the podium in Austria
That was such a wow moment. And I was happy with it… but then you get to thinking, don't you? In retrospect, you start thinking: this is how the design could be better, this is how we could arrange the team differently. I knew I had to stay involved.

So this year, I'm more of a mini-manager. This is a new step for me; I'm coaching the other students together with a few of my team mates from last year, helping them figure out problems for themselves. That all takes a different set of skills from engineering itself! Maybe they hate me for it. (I do try not to be too much of a backseat engineer!)
So my role's changed, and so has the project. And it's not going to be easy.
Because this year, we're pushing ourselves to try something that's never been attempted before by our team. We're the first Swedish student team ever to attempt to build an electric all-wheel drive Formula Student car. It's going to be tough. We have four independent motors, which means that the burden of designing and manufacturing the car increases significantly. Especially considering that we wind the motors ourselves.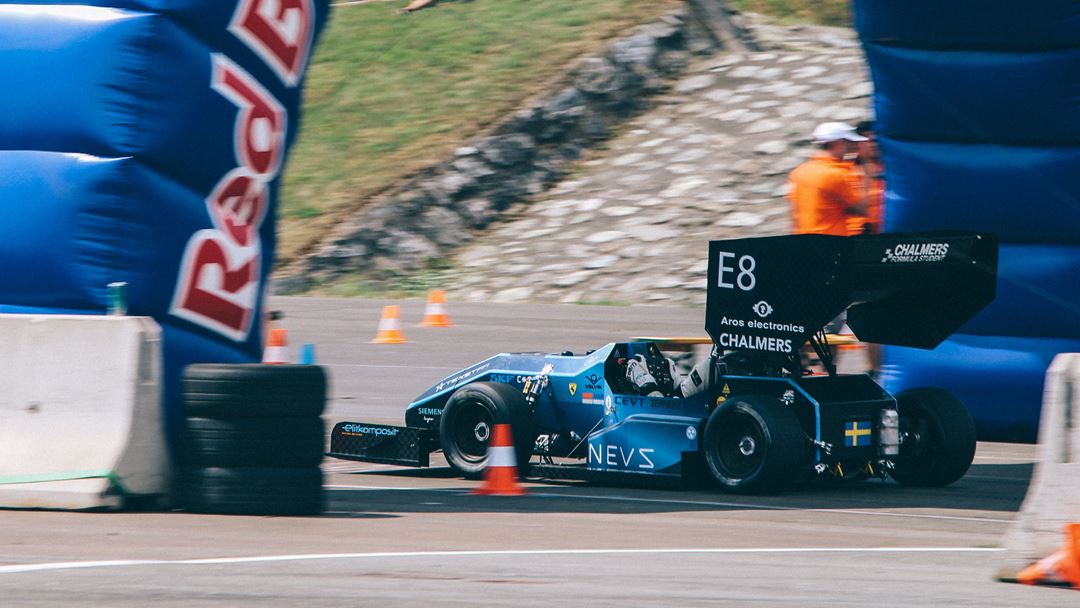 Why did we decide to change things up? One reason: speed. We've got to grit our teeth and dive into challenges like this, because this year, we're trying to place in the top five of every competition we race in.
Attempting this new challenge would've been painful without Tek

When they heard about our project, they lent us a bunch of different probes, source measure units (SMUs) and a 5 Series MSO. I can't tell you how helpful it's all been as we've been bringing together these four different motors – and a 600v battery on top of that. It's a lot of power. We couldn't build the car without a scope in particular; the pain would be very high if you took it away.
And we're students, so none of us are electronics experts when we start out – far from it! We have so much to learn when we first join the team. So having a scope with a touchscreen has been handy – anyone can pick it up and use it. These incredibly complicated tasks suddenly become super easy to master 
---
This year, the team was using a 5 Series MSO scope, but you can see their reaction when they tried the new 4 Series MSO

.