I recently attended the APEC tradeshow in Florida and was impressed with the growth and velocity that new Gallium Nitride (GaN) products are coming to market. The GaN products are targeting higher power, high frequency applications that include 3 phase motor inverters, 3 phase motor control, LED / lighting and power factor correction, as summarized in the chart below.

This chart highlights the variety of devices and the range of power and frequencies supported by the latest wide bandgap semiconductors relative to silicon
While the GaN products offer a viable option, one of the challenges expressed by visitors was switching losses. This is becoming more evident as on and off speeds increase – no surprise given the capabilities and power efficiencies GaN devices offer. Unfortunately, as on and off speeds increase, losses occur in ever-shorter time periods.
From a test and measurement perspective, getting a handle on these losses requires that the timing between the voltage and current waveforms be precise. Precise timing is needed to minimize measurement system offsets and to ensure the measurements dynamic range accurately measure the on and off voltages and currents.
Below is an example of switching measurements on Insulated Gate Bipolar Transistors (IGBTs). This same accurate measurement is possible on GaN devices using our MDO4000C with its wider dynamic range.

Example of an IGBT switching measurement.
The MDO4000C can quickly be set up to remove delays between current and voltage probes, known as skew. Pairing the MDO4000C with a Tek VPI enabled probe allow you to remove delays and paves the way for accurate measurements. The screen capture below shows how you can do just that. (Just as a reminder, always ensure that your current probes are degaussed to remove any residual DC flux within the probe.)

Removing skew between current and voltage probes on the MDO4000C
Another hot topic at APEC was the need to accurately measure common mode rejection (CMR) between the high and low sides of a half bridge circuit. Current methods to measure CMR are estimates. Accurate measurements are only possible with a measurement system that combines high CMR ratio, high common mode voltage and sufficient bandwidth. Tektronix' IsoVu High differentiated system offers complete galvanic isolation between the device under test and the oscilloscope. IsoVu offers:
·         1 million to 1 CMR ratio up to 100 MHz (no derating as frequency increases!)
·         1 GHz of bandwidth and rated at 60KV common mode voltage (UL Approved.).
This combination is what makes these once impossible measurements possible. Making the impossible possible is part of Tektronix' DNA – and we're providing a revolutionary solution to this age-old problem of accurate measurements in conjunction with high common mode voltages.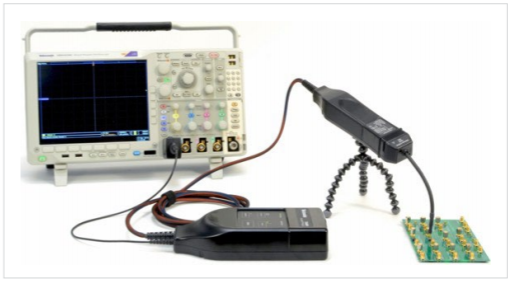 While GaN is an impressive solution for a number of important applications based on its power handling, thermal handling characteristics and overall power efficiencies, it isn't the only option. And as GaN becomes more widely adopted the need for the right test and measurement solutions become even more critical for design accuracy and to meet market requirements. The Tektronix MDO4000C accurately, quickly and reliably measure switching losses and other key measurements, particularly when paired with the IsoVu isolated measurement system.
For more information, check out the MDO4000C product page. 
I can't wait until next year (APEC 2018) to continue to show how our (MDO4000C) oscilloscopes, high performance probes and differential solutions continue to powerfully enable power applications! See you in San Antonio!!