Pay TV operators, broadcasters, and OTT providers increasingly want to use cloud-based workflows to reliably deliver premium live and on-demand video content to consumers.
Video providers need a scalable and cost-effective way to convert and package video content into various formats, while ensuring optimal video quality from acquisition to delivery.
AWS Media Services are cloudbased services with pay-as-you-go pricing which provide customers the capability to ingest, process, package, and deliver video content at scale. AWS Elemental MediaLive is a real-time video encoding service and works in combination with AWS Elemental MediaPackage for content origination, just-in-time packaging, and encryption. AWS Elemental MediaConvert is a file-based video transcoding service with packaging and encryption capabilities and can function as a standalone service or within a larger video workflow.
Sentry and Aurora are cloudbased video quality control (QC) solutions from Tektronix that provide automated video quality assurance and comprehensive QC, quality of service (QoS), quality of experience (QoE), and picture quality (PQ) measurements across any network. Customers use Sentry and Aurora with AWS Elemental MediaConvert, AWS Elemental MediaLive, and AWS Elemental MediaPackage to provide customers with secure, scalable, and efficient solutions for live and on-demand video workflows. Additional capabilities include standards compliance checks, DRM support, and features to enable nextgeneration video deployment, such as 4K, HEVC, and HDR.
Cloud-based video workflows provide a platform for new service innovation, flexibility, and quick time to market, all with a practical pay-as-you-grow model. Tektronix quality assurance solutions provide the visibility and tools to operationalize video networks and ensure top performance, proactive diagnostics, and the quality customers expect to minimize churn.

Live video workflows combine real-time encoding using AWS Elemental MediaLive and just-intime packaging, origination, and encryption using AWS Elemental MediaPackage with Tektronix Sentry monitoring to reliably deliver linear broadcast and event-based content to consumers.
Cloud-based Tektronix Sentry and Aurora video quality assurance products are compatible with AWS Media Services, enabling video providers to process and deliver high quality video streams for broadcast television and multiscreen devices with the security, scalability, and simplicity of cloud-based solutions.
File-based video workflows incorporate transcoding using AWS Elemental MediaConvert with Tektronix Aurora file QC, and can perform content library conversion and creation of on-demand assets for broadcast and multiscreen delivery
Sentry monitoring and diagnostics, together with AWS Elemental
MediaLive and AWS Elemental MediaPackage, as well as the Amazon CloudFront CDN, deliver automated measurement and reporting on issues in live streams that impact customers' viewing experience the most, often before they lead to actual customer disruption. Sentry also offers true video quality of experience and picture quality analysis on encrypted networks. The software-based solution can be deployed where it's needed in the AWS Cloud or in hybrid network environments.
By using Aurora with AWS Elemental MediaConvert, video providers can automate file QC on Amazon S3 storage to ensure a reliable, high quality VOD viewing experience. For OTT services, Aurora's perceptual video quality and TekMOS picture scoring reveals any encoding and alignment issues to ensure a great viewer experience. Depending on how workflows are structured, Aurora can perform QC testing of files in Amazon S3 buckets from a web-based user interface, through an API, or watch folder automation.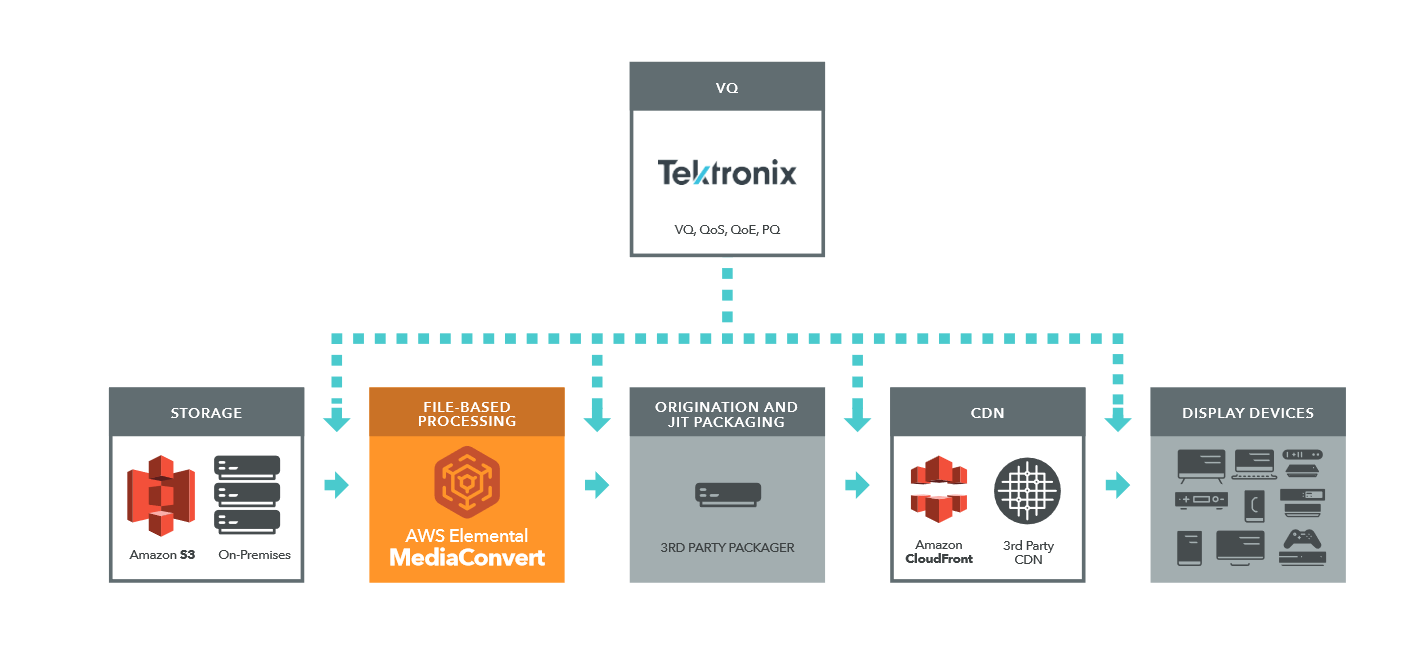 OVERVIEW
CHALLENGE
Lower operator OPEX cost by managing upgrades and obsolescence of hardware
Innovate to keep pace with new standards and technologies
Integrate with a wide variety of third-party products
SOLUTION
Abstract provisioning and management of live encoding and monitoring using cloud-based architectures
Support for a broad range of codecs, resolutions, and features
Open, published interfaces that provide choice and flexibility
BENEFITS
Eliminate management of complex infrastructure
Deploy 24x7 channels or event-based broadcasts with ease
Accelerate time to market with highly customizable cloud-based solutions
FEATURES
DESCRIPTION
Proactive end-to-end video quality assurance for cloud-based workflows
Comprehensive QC, QoS, QoE, and PQ measurements
Real-time live stream and file-based VOD verification and diagnostics
FEATURES
Easily scales from small to very large cloud and hybrid networks
Monitors network, assets, video, audio, ad insertion, and compliance
Extensive QC tests for video, audio, and metadata accuracy
BENEFITS
Picture quality analysis and detailed reporting of issues
Visibility across ingest, encode, packager, and CDN workflow
Automate file QC checks on Amazon S3 buckets or API