Live-Chat mit Tektronix-Vertretern. Verfügbar von 9 bis 17 Uhr CET Geschäftstage.
Laden Sie Handbücher, Datenblätter, Software und vieles mehr herunter:
OFDM Plug-in Datasheet
OFDM Plug-in Datasheet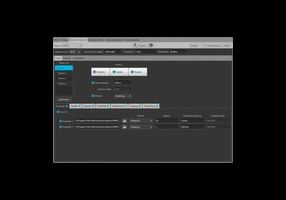 The Tektronix OFDM plug-in is a simple and flexible tool to create Single or Multiple OFDM based Frames as per standards with one or more bursts in a single compile. The plug-in integrates into the SourceXpress waveform creation platform, and the AWG70000 series and AWG5200 series arbitrary waveform generators.
Key features
Configure and create complete multiple OFDM Frames with Preamble, Header, and Payload
Preset for Standard compliant Frames for various wireless standards like Wi-Fi, WiMAX
Define Frame with Preamble, Header, and Payload (selectively) to simulate different OFDM signals
Configure Symbols with Data, Pilot and Guard sub carriers with different base pattern type, amplitude profile and phase offsets
Subcarrier Modulation Formats including BPSK, QPSK, QAM (16, 32, 64, 256, 512, 1024), and 8-PSK
Add Impairments such as Phase Noise and Multipath to simulate realistic propagation scenarios
Define Frequency Hopping and Gated Noise to simulate practical environments for receiver testing
S-Parameter emulation (requires license)

Scattering parameters can be directly convolved with the pulse to recreate the channel characteristics
Cascading S-Parameters allows you to cascade up to six Touchstone files of the same format to emulate a cascaded channel

Offline mode

Designed to run on an external PC via the SourceXpress PC application, thereby reducing the time taken to synthesize large waveforms and leaving the instruments free for continued testing

Seamless transition between design and playback

The easy to use graphical user interface integrates seamlessly with the user interfaces of the SourceXpress PC application and the Tektronix AWG70000 series and AWG5200 series generators

Designed for integration for automated test or manufacturing

Programmatic Interface allows for integration into existing workflows
Complete OFDM signal definition
The OFDM plug-in allows users to configure every part of the OFDM signal definition. It allows users to build the signal symbol-by-symbol to create a complete OFDM frame. Each subcarrier in the symbol can be configured independently for Type, Modulation, and Base Data. You could then add Zero Padding or Cyclic Prefix. Symbols can be modified by specifying the clipping ratio and tone nulling. A symbol table gives you a summary of all the carriers in the selected symbol.
OFDM packets/frames can be built by specifying the spacing between the symbols/frames. Parts of the OFDM packets can be stressed by adding Gated Noise to it.
Requirements
Plug-in installed with SourceXpress on PC:

SourceXpress software version 5.3 or greater
PC operating systems: Windows 7 (64 bit), Windows 8 (64 bit), Windows 10 (64 bit)

Plug-in installed on compatible instruments:

AWG70000 Series, firmware version 5.3 or greater
AWG5200 Series, firmware version 6.0 or greater
Ordering information
Models
OFDMFL-SS01

OFDM plug-in with a floating license that can be reassigned to different Tektronix instruments or PCs.

OFDMNL-SS01

OFDM plug-inwith a node locked license tied to a single instrument or PC.
The OFDM plug-in can be downloaded for free and a trial license is available. Complete functionality and continued use requires the purchase of a license.
Visit theSourceXpress,AWG70000, orAWG5200product pages to obtain the software and license.

Note: An S-Parameter license is required to enable the S-Parameter feature of the OFDM plug-in.
How to purchase
To purchase, visit the Tektronix web site to request a quote or contact your nearest sales representative.
Additional information
Additional information
This and other plug-ins are available for SourceXpress and compatible waveform generators.
Use the following website links to view available application plug-ins, downloads, and trial licenses.
Licensing
Each plug-in (for SourceXpress, the AWG70000A Series generators, and the AWG5200 Series generators) requires the purchase of a license before they are functional. Some plug-ins may require additional licenses to unlock specific plug-in features. Licenses are managed within the Tektronix Asset Management System (Tek AMS). The Tek AMS web site address iswww.tektronix.com/node/72246. Product license management requires a login account.
There are two types of licenses available: node-locked (NL) and floating (FL).
Node Locked Licenses provide your own copy of the application on your instrument or personal computer and are permanently assigned to a specific Hosti ID or product model/serial number.

Floating licenses can be moved between different Host IDs or product models.
Use the Tektronix Asset Management system to check in and check out floating licenses.