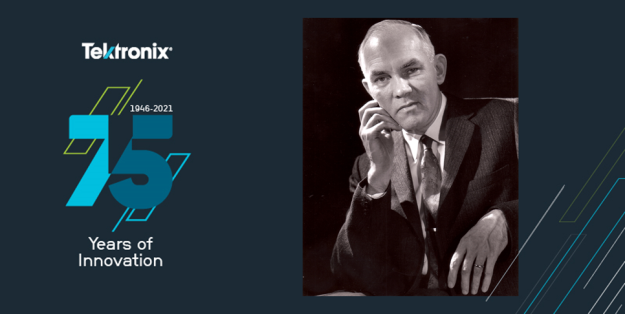 Tektronix founder's family reflects on their family's company 75 years on
Before Tektronix was a several thousand-employee, global technology innovator, it was a small post-World War II operation on Portland's eastside run by Howard Vollum.
Today the company's spacious Beaverton campus still bears his name and a half dozen or more Oregon university awards and science labs have been named for the company founder, who died in 1986.
As Tektronix celebrates its 75th anniversary, two of Howard's sons, Don and Steve, said their father would be proud of the state of the company and inspired by its vision for the future.
Tektronix is often credited with "seeding the Silicon Forest" when it was founded in Oregon in 1946.Since then, the billion-dollar company has filed more than 700 patents, become one of Oregon's largest employers and contributed to nearly every major innovation in technology from the invention of the color TV to medical advances, and the rise of green energy to NASA's recent expedition to Mars.
"It's so cool that Tek is celebrating its 75th anniversary and the company is still making things that would be recognizable to my dad," said Don. "It's a really fantastic achievement to not only be around, but to have remained true to your core offering."
In fact, barely ten percent of Fortune 500 companies from 1955 still exist today. Through all the growth, experimentation, and new technology, the constant at Tek has been the commitment to excellence instilled from Howard's early days when the company was but a small storefront on Hawthorne Boulevard.
"In the early days, dad would bring home a big stack of papers from the shop every night to go through after a family dinner," said Don. "Every once in a while, he'd bring home something cool like a heart monitor. And he was always tinkering with things at home, especially the TV, which he would inevitably be working on right when we all sat down to watch something." 
Don's older brother, Steve, worked as an engineer at Tek in the late 70s,and he believes Tek's success is due to its commitment to the original mantra set by his father—excellence in engineering. 
"My father was really committed to the idea of excellence in engineering, and as the company grew, the commitment to excellence extended to every area of the business," Steve said. "He preached excellence in marketing, excellence in customer service, financial excellence, operational excellence. He knew that if the company was committed to excellence in all areas, customers would come back again and again."

As a leader in test and measurement equipment, Tektronix has developed a number of revolutionary instruments to help engineers see the unseen – waves that depict computer processing power. Signal generators, signal analyzers and source measure units have diversified the business, but Tek is undeniably best known for the product built by Howard himself—the oscilloscope. 
The cornerstone of electronic signal measurement, the oscilloscope has evolved significantly since Howard's first design (the 512, which was sold for $950 in 1955). Over the years, the Tek oscilloscope increased greatly in bandwidth and frequency to incorporate the best technology of the day, including today's digital touchscreen displays and cloud-based collaborative functionality. 
Howard always had his finger on the pulse of the industry, but he was never swayed by the latest shiny and new tech trend. Rather, he looked at advancements in technology and asked whether it would better serve his customers. If the new technology was needed to continue producing state-of-the-art equipment, he incorporated it into designs. If not, he wouldn't let it be a distraction. According to Steve, Howard's philosophy was, "don't use it because it's new, use it because it's better."
"I remember when he brought home the first storage oscilloscope," said Steve. "He played with that for a long time. He always tested the latest Tek instruments on his own bench and was really hands-on with the equipment. I think he was his own best customer."
Howard may have been an enthusiastic Tek customer, but even as company president, he was never the sole arbiter of what the market demanded. Known for encouraging innovation, Howard advocated for testing products in the market to see how customers would respond. Today's R&D culture at Tektronix, which relies heavily on listening to customer input, is a modern incarnation of Howard's own trust in Tek's early customers.
Howard's curiosity, spirit of innovation and passion for experimentation made him one of the greatest engineers and scientist of his day, and his family sees some of those same traits in current Tektronix president, Tami Newcombe, an engineer herself. 
"My father would be thrilled to see an engineer at the helm of Tektronix," said Don. "He always felt that an engineer should be leading the company and that the knowledge of running the business should be secondary to an intimate knowledge of the products and how they worked." 
Don recalled reading a recent article about the state of Tek profiling Newcombe's leadership style (Tektronix Planted the Silicon Forest, Willamette Week). "I was really inspired by what she had to say about the future of the company. I think it would have made my dad proud," he said.
One of the most significant contributors to Tek's growth over the past 75 years has been its unique culture and ability to attract engineering talent. Since the early days, everyone has been on a first-name basis and has been treated as equals. Engineers were encouraged to share ideas and try new things—something that's still a part of the company's modern internal growth accelerator culture.
"Tek is an extraordinary place to work," said Steve. "It's not just a job. It's a place that encourages experimentation and creative thinking. Employees aren't limited in what they can contribute to the organization and there are endless opportunities for growth." 
Though Don never worked for Tektronix, his son recently interned within the company's high performance oscilloscopes division and loved his experience. 
"They're still innovating and doing some really cool stuff today that my dad would really love," said Don. "Test and measurement is still the core focus, and I think a lot of what Tektronix is doing today is in line with his original vision for the company."
Steve agrees with his brother's sentiment, noting that "as Tami and her team look to the future, it seems like the spirit of innovation is alive and well at Tektronix."