Live-Chat mit Tektronix-Vertretern. Verfügbar von 9 bis 17 Uhr CET Geschäftstage.
Laden Sie Handbücher, Datenblätter, Software und vieles mehr herunter:
Elementary Stream Compliance Checker and Analyzer
MTS4CC
Die Produkte dieses Datenblatts gehören nicht mehr zum Angebot von Tektronix.
Tektronix Encore nach aufgearbeiteten Testgeräten durchsuchen.
Garantie- und Supportstatus dieser Produkte überprüfen.


Online lesen:
Features & Benefits
Verification of the Stream's Compliance with the Encoding Standard
Video Decode and Analysis
Extraction of Elementary Streams from Containers
Comprehensive Stream Navigation and Tracking to Follow All Aspects of the Decoding Process
Multiple Displays and Overlays of Codec Information
Synchronized Video, Audio, and Data Views for Instant Cross Reference
Buffer Analysis
Video Differencing and Fidelity Analysis
YUV Decoded Output for use with the Tektronix PQA600 Picture Quality Analyzer
Comprehensive Batch Mode for Automated Regression Testing with Log Report
Built-in Help and Tutorials
Applications
Intended Users and Applications
Equipment Development and Verification Test

Video CODECs
Professional Video Equipment
STB, PVR, DVD Consumer Electronics
Video Conferencing
Mobile Handsets and Multimedia

Video Content Providers and Broadcast

TV, Cable, DVD, Streaming Media
Broadcast Test and Monitoring
Network Operators and Infrastructure
Compressed Video Compliance Checking and Analysis Software
Elementary Stream Analysis
MTS4CC Video Compliance Checker and Analyzer is a powerful PC-based software package for the deferred time analysis of encoded video elementary streams. Supported video standards include H.264/AVC, VC-1, MPEG-2, MPEG-4 Part 2, and H.263. Supported audio standards include MPEG-2 audio, AAC, and AC-3 (for playback and waveform view).
Video compression standards are complex and involve many elements which are vitally important to the efficiency and interoperability of compressed video in different applications. MTS4CC provides verification of the compliance of the stream against the compression standard, detailed analysis of the video streams, tools for debugging the stream, and fidelity comparison against the original uncompressed stream. YUV decoded output enables baseband video analysis with the Tektronix PQA600 Picture Quality Analyzer. It enables equipment and systems developers to test and bring new designs rapidly to market, and video users to test compliancy, interoperability, and performance of compression products.

Frame Summary

Motion Vectors

Real-time Compliance Testing and Error Alerts

Frame Statistics

File Structure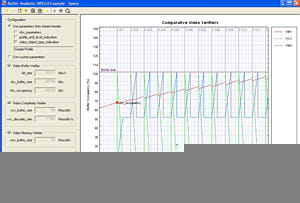 Buffer Analysis

Audio Channels 
Characteristics
Standards Supported
Video
H.264/AVC – Baseline, Extended, Main, High, High 10, High 4:2:2, and High 4:4:4 profiles at all levels 1 to 5:1
H.264/AVC Intra profiles, High10, High422, High444, and CALVC at levels 1 to 5.1
H.264/AVC Scalable Video Coding (SVC) Extensions – Baseline, High, and High Intra profiles at levels 1 to 5.1
MPEG-2 – Main Profile at Main, High and High 1440 levels, 4:2:2 Profile at Main and High levels
VC-1 – All profiles at all levels
MPEG-4 – Simple Profile at levels 0 to 5 and Advanced Simple Profile at levels 0 to 5
H.263 Baseline
Uncompressed YUV, RGB, or Grayscale Color Models, 8 to 16 bit Sample Depth, Various Chroma Subsampling Formats
Audio (Decode only)
MPEG-1 Part 3 Layers I and II
MPEG-2 Part 3 Layers I and II
MPEG-2 Part 7 (AAC) Main (Excludes LC and SSR)
MPEG-4 Part 3 (HE-AAC) AAC Main, AAC LC (Low Complexity, AAC LTP (Long-term Prediction), SBR (Spectral Band Replication))
Dolby Digital (AC-3) Baseline Standard, Annex D: Extended/Alternate Bit Stream (Playback and Waveform only)
System Layer
Elementary Streams contained within:

MPEG-2 Transport/Program Streams
MP4 Parts 1 and 15
ASF
3GPP
DVD VOB
System Requirements
Windows XP or 7
Processor Speed >1.5 GHz (2.5 GHz recommended)
512 MB or greater RAM
400 MB hard disk space
Ordering Information
To order the MTS4CC for an existing MTS400, MTS430, or even to integrate it on an existing MTS4XA dongle, select the LUD licensing option, plus the other options that you need.
Base Product
MTS4CC
Software Video Compliance Checker and Analyzer. Includes English manual and CD.
Product Options
| Option | Description |
| --- | --- |
| Opt. AVC | H.264/AVC Baseline, Extended, Main, and High Profiles with FRExT (10 bit, 4:2:2, 4:4:4), plus Intra and SVC Profiles |
| Opt. MPG2 | MPEG-2 Main Profile Main Level, 4:2:2 Profile at Main Level, MPEG-2 Main Profile High Level, High Level 1440, and 4:2:2 Profile at High Level*1 |
| Opt. VC1 | VC-1 (All profiles, all levels) and ASF extraction*1 |
| Opt. MPG4   | MPEG-4 Simple Profile (Levels 0 to 3), Advanced Simple Profile (Levels 0 to 5), and H.263*1 |
| Opt. FID | Fidelity (PSNR) analysis and visual differencing |
*1 At least one of the CODEC options MPG4, MPG2, AVC, or VC1 must be ordered.
Licensing Options
| Option | Description |
| --- | --- |
| Opt. PPD | Parallel Port dongle*2 |
| Opt. USB | USB dongle*2 |
| Opt. LUD | Installation on a pre-existing MTS400/430/4XA dongle*2 |
*2  One of the licensing options PPD, USB, or LUD must be ordered.
Note: Full audio decode is enabled for any purchased video CODEC. Supported audio CODECS are MPEG-2 Layer 1 and 2, AAC, HE AAC, and AC-3.