與 Tek 業務代表即時對談。 上班時間:上午 6:00 - 下午 4:30 (太平洋時間)
致電
請致電
與 Tek 業務代表即時對談。 上班時間:上午 8:30 - 下午 5:30 (太平洋時間)
Calibration Services for Tools, Sensors, Test Equipment and Facilities
Tektronix is a trusted partner in the automotive industry. We provide support for your entire business lifecycle from design to validation and from manufacturing to quality assurance. Our mission is to keep your tools, sensors, electronic test equipment and environmental facilities accurate and reliable, year after year. 
Meeting Your Quality Requirements and Service Expectations
Tektronix Service Center labs are accredited to ISO 17025, which meets the IATF 16949, Paragraph 7.1.5.3.2, External Laboratory standard that requires ISO/IEC 17025:2005 accreditation for "the capability to perform the required inspection, test, or calibration." Tektronix is also ISO 9001 certified to provide ANSI/NCSL Z540.1-1994 and ANSI/NCSL Z540.3-20061 levels of calibration.
We also offer premier factory calibration for Tektronix and Keithley products to protect your investment and maintain your equipment in like new condition with the latest updates, advanced calibrations (exclusive to Tektronix) and available repairs.
These services are delivered in the way that best supports your business whether in your facility, at our service centers, mail-in or pick-up and delivery. We can support your business success with programs that enable your field or distributed organizations to increase their efficiency and readiness. Examples range from pre-calibrated kit push programs to torque tool set exchanges for thousands of field service groups.
1 Z540.3-2006 pending.

Specialization in Automotive Calibration
All of our standard calibration services are available to meet demanding automotive industry quality requirements. These include:
Cloud-based Calibration Certificate Storage Included with Calibration Service
Manage Complex Calibration Environments with CalWeb
One-Stop Shop for Managing your Calibration Program
Compliant with the FDA's 21 CFR Parts 11 and 820
Cloud-Based with Flexible Configurations
Multi-layered Security
Excellent Reliability with 99.5% Uptime
Intuitive User Interface
Mobile Device Support
Global Support in 10 Languages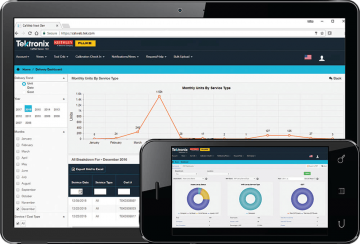 Why Choose Tektronix for Calibration Service?
Calibration services for equipment from 9,000-plus manufacturers—far more than just Tektronix!
Extensive global service network—more than 100 points of service.
Superior quality—181 ISO/IEC 17025:2005 accreditation parameters.
1,100-plus associates—highly skilled technicians and sales representatives.