與 Tek 業務代表即時對談。 上班時間:上午 6:00 - 下午 4:30 (太平洋時間)
致電
請致電
與 Tek 業務代表即時對談。 上班時間:上午 8:30 - 下午 5:30 (太平洋時間)
Teletext Measurements
VM700T Option 20
線上參閱:
Features & Benefits
Adds Teletext Measurement to Measure and Monitor Signals for Either NTSC or PAL Systems

Eye Height
Eye Width
Data Level
Start-of-Code
Number of Run-in Bits
Applications
In-Service Monitoring of Teletext Signals
Troubleshooting Teletext Problems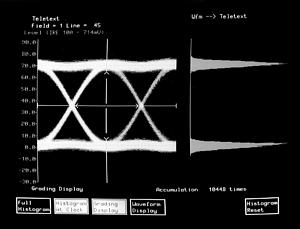 Teletext Measurements
Tektronix is the worldwide leader supplying test equipment for the entire range of video and audio signal applications. Our video and audio test portfolio consists of signal processing, generation and measurement equipment for broadcast, cable, production, manufacturing and transmission applications.
The VM700T Option 20 provides the capability to measure and monitor teletext signals for either NTSC or PAL systems. Option 20 adds the Teletext measurement to the Measure mode of the VM700T. The measurement can be made on teletext signals with clocks of 5.727272 MHz for System M (NTSC) or 6.9375 MHz, 6.2031 MHz and 4.4375 MHz for System B/G/I (PAL). Other clock frequencies are available.
The measurement displays the teletext eye height pattern along with numbers for both eye height and eye width. A soft key selection can add a histogram display of all amplitudes or the amplitudes at any point at the clock. This is a useful statistical tool for seeing noise and jitter in the teletext signal. A grading display of eye height is also provided at the touch of a soft key. This provides visual feedback on density levels for "ones" and "zeros." A timing display of the teletext signal provides data timing from leading edge of sync to last run-in bit and run-in bit width. Also at the touch of a soft key are horizontal or vertical cursors which are useful for manual measurements.
All of these parameters can be reported in a numerical format over the RS-232C interface or sent to a printer. In addition, the measurements can be tested against upper and lower user defined limits.
Characteristics
Data Input Range - -170 mV to 840 mV.
| Measurement | Range | Accuracy |
| --- | --- | --- |
| Eye Height (Decoding Margin) | 30 to 100% | ±3% |
| Eye Width (Timing Margin) | 30 to 100% | ±3% |
| Data Level | -170 mV to 840 mV | ±3% |
| Start-of-Code (Data Timing) | 10 to 15 µs | ±10 ns |
| Number of Run-in Bits | 5 to 25 bits | NA |
Ordering Information
VM700T Option 20
VM700T with teletext measurement capability. Order VM700T Option 01 and/or Option 11 and Option 20.
VMUPG Option 20
Upgrade kit to add teletext measurement capability to existing VM700T. Order VMUPG Option 20.