與 Tek 業務代表即時對談。 上班時間:上午 6:00 - 下午 4:30 (太平洋時間)
致電
請致電
與 Tek 業務代表即時對談。 上班時間:上午 8:30 - 下午 5:30 (太平洋時間)
20X Low Capacitance Probe
P6158 Datasheet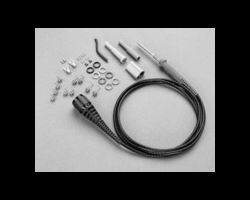 P6158
Notice to EU customers
This product is not updated to comply with the RoHS 2 Directive 2011/65/EU and will not be shipped to the EU. Customers may be able to purchase products from inventory that were placed on the EU market prior to July 22, 2017 until supplies are depleted. Tektronix is committed to helping you with your solution needs. Please contact your local sales representative for further assistance or to determine if alternative product(s) are available. Tektronix will continue service to the end of worldwide support life.
Features and benefits
3 GHz Bandwidth
1.5 pF Input Capacitance
1 kΩ Input Resistance
22 VRMS Max. Input Voltage
Activates 20X Readout in TEKPROBE™ Interface Instruments
Compact Probe Tip Compatible with a Wide Range of Tektronix Accessories and Adapters
Applications
High-speed device characterization
Propagation delays for ECL, CMOS and other logic circuitry and devices
Circuit board impedance testing (TDR)
High-speed sampling systems
P6158 DC to 3 GHz
The P6158 is a 3 GHz, 20X, low-capacitance probe. The P6158 is ideal for high-speed applications because of its ability to extend high-frequency response to 3 GHz. The BNC connector incorporates encoding to correct scale factors for 20X attenuation in oscilloscopes with TEKPROBE® power supply interface. To facilitate SMD probing, the P6158 comes standard with SureFoot® adapters. Additionally, the probe comes standard with an array of short ground leads that insert minimal inductance into the signal path of the measured waveform. The compact probe head/tip assembly is compatible with the full line of 3.5 mm probe accessories. Designed for the TDS500/600/700/5000/6000/7000 Series oscilloscopes, the P6158 probe may also be used with 50 Ω 11000 Series plug-ins and the 11800 Series SD2X Sampling/TDR plug-ins with BNC to SMA Adapters.
Recommended instruments
TDS500/600/700/7000 Series
11000 Series
11800 SD2X Sampling/TDR plug-ins
TDS820/TDS8000/CSA8000/11801C/CSA803C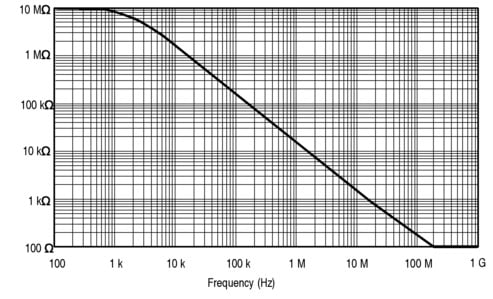 P6158 Attenuation vs. frequency.

P6158 Input impedance and phase.

SF200A Series SureFoot® adapters.

Compact probe tip circuit board test points.
Specifications
All specifications are guaranteed unless noted otherwise. All specifications apply to all models unless noted otherwise.
Electrical Characteristics
Bandwidth (Probe only)

DC to 3 GHz, -3 dB
Rise time

>100 ps
Attenuation

x20 (-26 dB)
Attenuation accuracy

±3%
Input capacitance

1.5 pF
Input resistance

1 kΩ
Output termination

Terminate into 50 Ω
Signal delay

5 ns
Physical charactersitics
Prob tip/head style

3.5 mm/Compact
Output cable length

1.2 m.
Environmental charactersitics
Operating temperature

-15 °C to +55 °C (+5 °F to +131 °F)
High operating:

55 °C @ 95 to 97% RH

Low operating:

30 °C @ 95 to 97% RH
Ordering Information
Models
P6158

3 GHz Low Capacitance Probe
Standard accessories
020-2232-00

P6158 probe tip accessory kit

204-1049-00 

Attenuator tip cover; 2 ea. 50 mil, 25 mil (0.65 mm), and 0.5 mm SureFoot adapters

195-4240-00 

2 in. ground lead

343-1003-01

ground collar

016-1077-00

2 ea. ground tip contact, 5 lengths w/cover shell

016-0633-00

2 ea. compact probe tip circuit board test points; 2 ea. marker set, various colors

071-0123-00

Instruction manual
Recommended replacement accessories
SF201A

SureFoot Adapter, Orange, 50 mil (12 ea.)

SF202A

SureFoot Adapter, Blue, 0.65 mm/25 mil (12 ea.)

SF203

SureFoot Adapter, Red, 0.50 mm/20 mil (12 ea.)

131-5031-00

Compact Probe Tip Circuit Board Test Points (25 ea.)