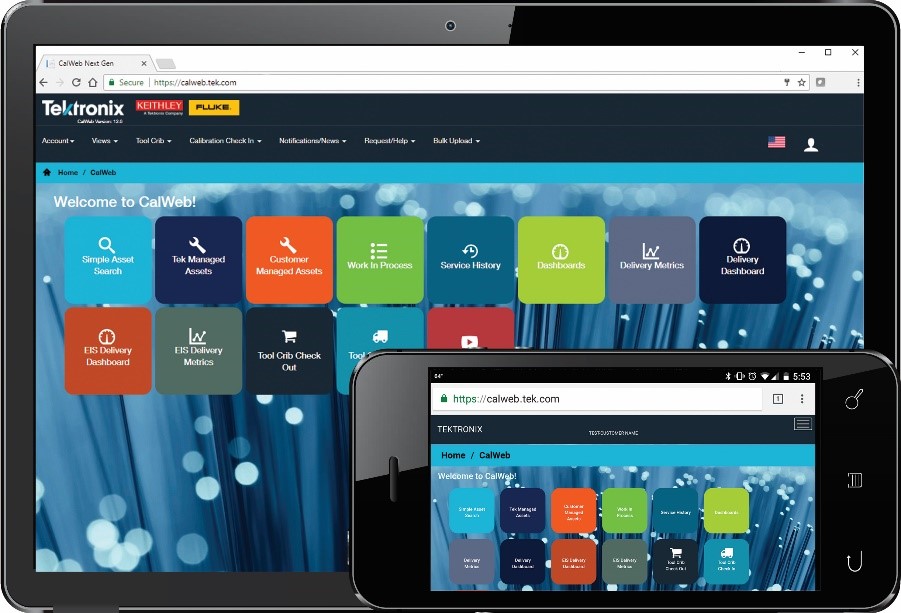 By Lynette Brown
 
Ensuring that equipment is maintained and calibrated on schedule is vital to not only satisfying regulatory requirements, but also to ensuring that the equipment is available when needed. Over the years, we've heard time and again from our customers – especially those in global enterprises – about the challenges they faced maintaining a complete view of their equipment calibration programs.
As the leader in calibration, Tektronix understands the challenges of managing such programs. This need and a desire to help our customers paved the way for CalWeb, our cloud-based asset management tool. Initially conceived as a basic online portal for customers to access calibration certificates and general asset data, CalWeb has grown into a one-stop shop for managing complex calibration and equipment programs.
CalWeb offers centralized reports that include an enterprise view that aggregates data across multiple locations. This includes dashboards like the example below that let you quickly see asset status, work in progress and out-of-tolerance events.

Compliance legislation, such as ISO 9001 and 13485 and the U.S. FDA, mandates that certain companies must maintain comprehensive calibration records and process controls. Records must be in place to provide fast, accurate reporting and historical trend data in the event of an audit.
Electronic management systems, like CalWeb, are increasingly being used for the accuracy and visibility of their processes to help avoid missed calibrations, product delays and regulatory findings. Users also get a centralized analysis of calibration records to identify historical trends. CalWeb is compliant with ISO and FDA regulations and features secure document and change controls, including document lifecycle management, audit trail history, cross-linking and a centralized repository.
CalWeb, which has captured over 5 million events to date, can assign permission levels based on each user's needs and makes it easy to track calibration and maintenance tasks across the organization. What's more, automatic alerts notify appropriate personnel when services are needed along with service orders and progress tracking functions. And customer recalls for calibration and work-in-progress status updates can all be managed within CalWeb.
The evolution of CalWeb is a direct result of feedback from customers who use it to monitor their calibration program and track everything from paper clips to fork lifts.
To learn more about CalWeb and how it can help you gain control over your equipment calibration and maintenance programs, visit https://www.tek.com/calweb.