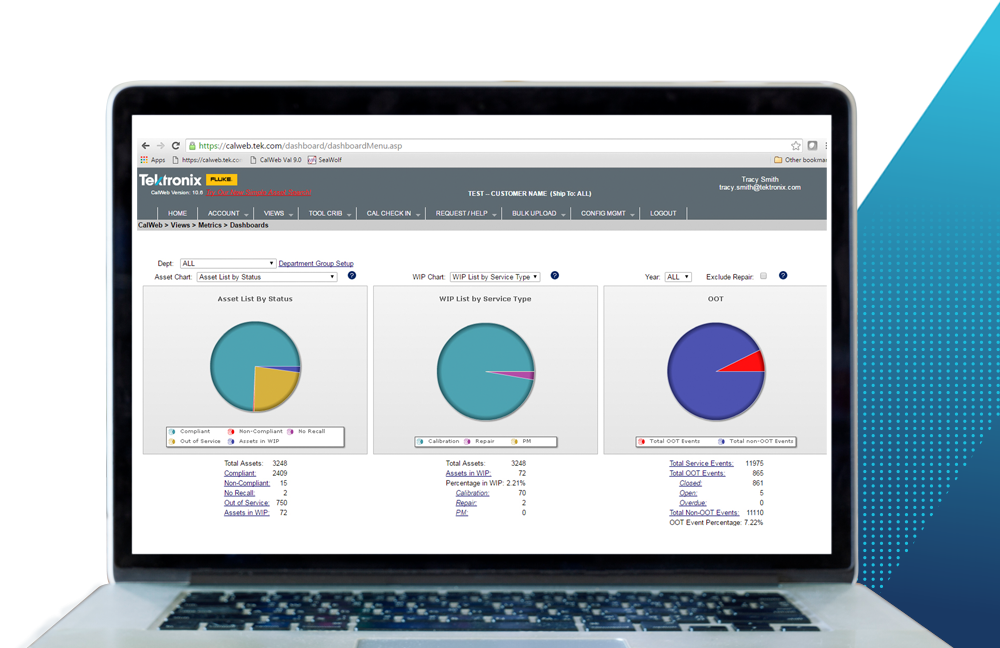 Within any industry, combatting operational risk while balancing financial responsibilities are chief concerns. For medical device manufacturers, there is additional regulatory pressure to prove that assets are properly maintained and calibrated. In this post, we'll identify three common asset management pitfalls experienced by medical device manufacturers and talk about how to build a strong asset management program utilizing web-based solutions.
Lost, Misplaced or insufficient Calibration Documentation
Regulatory organizations and standards such as FDA and ISO place demanding requirements on the storage of calibration certificates and service records, but many medical device manufacturers still use outdated manual methods to store documents. Manual, paper-based storage systems lack the sophistication required for effective document management. Lost or misplaced records and incomplete or illegible hand-written documents leave organizations at risk of being noncompliant in the event of an inspection or audit.
In addition, depending upon the number of instruments a company has in service, manually tracking assets can add countless man hours per year and does not provide the level of accuracy and visibility that is needed in a medical device manufacturing environment.
Utilizing an electronic records management system that is validated to FDA requirements ensures regulatory compliance and reduces administrative costs associated with manually managing service records. Electronic systems provide comprehensive document management as well as validated change controls such as audit trail history, cross-linking and a centralized repository.
Lack of Centralized Data and Analytics
Medical device manufacturers that are using manual methods of records management do not have access to flexible, in-depth reporting that can be used to optimize calibration programs. Comprehensive asset management applications provide the ability to set and adjust reporting parameters to meet a company's custom reporting needs. An end-to-end view of asset data including preventative maintenance, equipment downtime and historical trend analysis is vital to proactively managing risk. A high-quality solution is one that provides in-depth analytics and access to all relevant service records, allowing for calibration interval optimizations based on calibration data. For example, if an instrument is found to be within tolerance over the span of a few calibrations, the calibration interval for that piece of equipment can likely be lengthened. Similarly, if an instrument is found out-of-tolerance, the calibration interval can be shortened to ensure the equipment is recording accurate data.
Additionally, aggregating data in reports allows for load leveling of the calibration schedule to ensure optimal equipment utilization and reduce downtime during maintenance and repairs. With web-based asset management, companies should have 24-hour access to instrument data and enterprise-wide reporting capabilities that facilitate regulatory compliance and help to avoid product quality issues.
Inadequate Reliability and Accessibility
Basic in-house electronic or paper-based systems do not provide the data integrity and system accessibility necessary in an environment where asset information moves between a mobile workforce, multiple facilities, and outside calibration laboratories. Password configuration and management options that include expiration, encryption and certification are vital to maintaining accurate records while document change controls such as electronic signatures and automated tracking facilitate compliance with global regulations.
Web-based calibration management applications promote data availability and reliability through automatic system upgrades, and system redundancy to avoid network outages and aid in disaster recovery.
What's Next?
CalWeb from Tektronix provides superior asset management capabilities in a configurable, easy-to-use, web-based application. Users can view service status, calibration due dates and supporting documents for both Tektronix managed and internally managed inventory in real time. Automated document routing, approvals and escalations help eliminate the risk of missed calibrations. CalWeb is validated to meet 21 CFR Parts 11 and 820, quality system regulations.
With over 70 years of innovation in the test and measurement industry, Tektronix is equipped with the standards, procedures and industry expertise necessary to maintain your instruments at their peak performance. To learn how our unmatched suite of capabilities can ensure the health of your asset pool and keep you compliant with strict regulatory standards, visit us at www. tek.com/medical-equipment-calibration.