與 Tek 業務代表即時對談。 上班時間:上午 6:00 - 下午 4:30 (太平洋時間)
致電
請致電
與 Tek 業務代表即時對談。 上班時間:上午 8:30 - 下午 5:30 (太平洋時間)
HEVC / AVC Video and Compressed Audio Analyzer
MTS4EAV7 Datasheet
The MTS4EAV7 HEVC / AVC Video and Compressed Audio Analyzer is a powerful PC-based software package for deferred time analysis of encoded video and audio elementary streams. Supported video standards include HEVC (H.265), AVC / H.264, VC-1, MPEG-2, MPEG-4 part 2, and H.263. Supported audio standards include MPEG-2 audio, AAC, and AC-3. Also included are closed caption analysis capabilities. The MTS4EAV7 analyzer is available for standalone or networked PCs, and for Tektronix MTS4000 MPEG Test Systems.
Key features
Video, audio and caption decode and analysis
Verification of the stream's compliance with the encoding standard
Extraction of elementary streams from containers
Comprehensive stream navigation and tracking to follow all aspects of the decoding process
Multiple displays and overlays of Coding Unit (CU), Prediction Unit (PU), Transform Unit (TU), Macroblocks (MB)
Easy selection of specified CU/MB and navigation using Zoom in and out for analysis
Synchronized video, audio, and data views for instant cross reference
Wide range of frame and Coding Tree Unit (CTU), Coding Unit (CU), Prediction Unit (PU), Transform Unit (TU), macroblock statistics, syntax traces – bitstream, interpret, alerts, frame, macroblock, transform, pixel level, fidelity traces
Buffer analysis with graphical plots – spatial bits/MB, MV histogram, quantization, DCT frequency, MB coded frequency, intracoding frequency
Video differencing and fidelity analysis
Bitstream editor for making changes, reanalyzing the stream, then saving
Exports data for detailed graphical analysis (requires Microsoft Excel®)
Comprehensive batch mode for automated regression testing with log reports
YUV decoded video output for baseband video analysis
Audio compression analysis
AV delay measurement
Built-in help and tutorials
Quicker and partial analysis by extracting to smaller files

Closed Caption syntax and compliance analysis with ability to render captions over video, save captions to standard file format (SRT, SCC MCC), and debug capabilities, with support for Korean characters
Intended users and applications
Equipment manufacturers

Video codec software and hardware developers
Semiconductor device designers and manufacturers
Mobile video infrastructure and mobile device developers

Video content transmission and distribution

CODEC and equipment evaluation and comparison in cable, satellite, terrestrial, and IP applications
Network operators and network equipment providers
Application and service providers and streaming media applications
Broadcasters for checking AV delay
Elementary stream analysis
Video compression standards are complex and involve many elements which are vitally important to the efficiency and interoperability of compressed video in different applications. The MTS4EAV7 analyzer provides verification of the compliance of the stream against the compression standard, detailed analysis and statistics of the video and audio streams, tools for editing and debugging the stream, fidelity comparison against the original uncompressed stream, and checking for any video and audio delay.
Analysis of intermediate HEVC/H.265 and H.264/AVC transform values is included, as well as ARIB TR-B14 compliance verification. It enables equipment and systems developers to test and bring new designs rapidly to market, and video users to test compliance, interoperability, and performance of compression products.
Standards supported
Video
HEVC (H.265) Main and Main 10 profiles, all levels
H.264/AVC/MPEG-4 Part 10 – Baseline, Extended, Main, High, High 10, High 4:2:2, and High 4:4:4 profiles all levels 1 to 5:1 
H.264/AVC Intra profiles, High10, High422, High444, and CALVC at levels 1 to 5.1 
H.264/AVC Scalable Video Coding (SVC) Extensions – Baseline, High, and High Intra profiles at levels 1 to 5.1 
MPEG-2 – Main Profile at Main, High, and High 1440 levels, 4:2:2 Profile at Main and High levels
VC-1 – All profiles at all levels
MPEG-4 Part 2 – Simple Profile at levels 0 to 5 and Advanced Simple Profile at levels 0 to 5 
H.263 Baseline
Uncompressed YUV, RGB, or Grayscale Color Models, 8 to 16 bit Sample Depth, various Chroma Subsampling Formats
Audio
MPEG-1 Part 3 Layers I and II
MPEG-2 Part 3 Layers I and II
MPEG-2 Part 7 (AAC ) Main (Excludes LC and SSR)
MPEG-4 Part 3 (HE-AAC) AAC Main, AAC LC (Low Complexity, AAC LTP (Long-term Prediction), SBR (Spectral Band Replication))
Dolby Digital (AC-3) Baseline Standard, Annex D: Extended/Alternate Bit Stream (Playback and Waveform only)
System layer
MPEG-2 Transport/Program Streams
MP4 Parts 1, 12, and 15 
ASF
3GPP
DVD VOB
QuickTime MOV
MXF
Closed caption
CEA 608 
CEA 708 
SCTE 20/21 
System requirements
Windows 7 or Windows 8.1, 64-bit operating system
Processor Speed > 2.5 GHz
4 GB or greater RAM
250 GB hard disk space
MTS4EAV7 example screens

Frame summary

Video Navigator

CTU and CU Tooltips

CU Types Overlay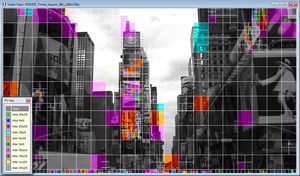 PU Types Overlay

CU Size distribution graph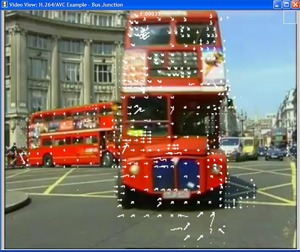 Motion vectors

Real-time compliance testing and error alerts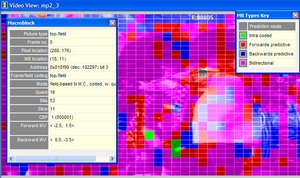 Macroblock overlays and statistics

Frame statistics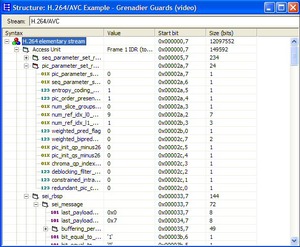 File structure

Buffer analysis

Graphical analysis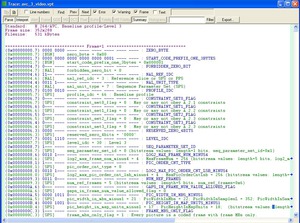 Trace views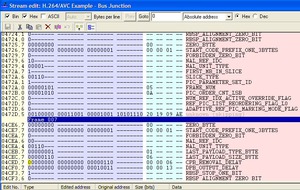 Stream HexView and edit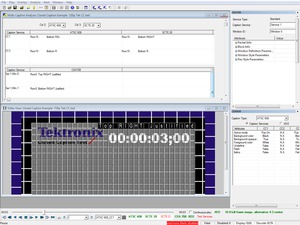 Closed Caption analysis (CEA 608 shown).

Audio channels

Audio compression analysis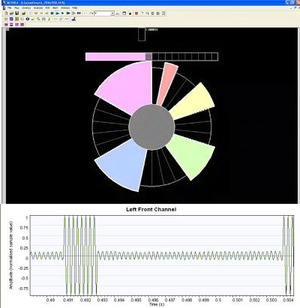 Audio video delay measurement
Ordering information
Models
MTS4EAV7

Base software includes support for AVC / H.264 baseline, main, extended and high (plus Intra) profiles codec, MPEG-4 advanced simple profile (Level 0 to 5), MPEG-2 main and 4:2:2 profiles at high level, and VC1 all profiles, all levels; audio decode and analysis (including MPEG-2 Layer 1 and 2, AAC, HE AAC, and AC-3), and A/V delay measurement; Floating license 1 (includes one license).

Optional software includes H.265/HEVC support. For an additional floating license, order Option FLT.
1 For single-license installations, the software can be installed in floating-license mode or node-locked mode.
Standard accessories
071-3435-XX

MTS4EAV7 Installation and Safety Instructions

063-4517-XX

MTS4EAV7 Software Install CD-ROM

Not orderable

USB dongle
MTS4EAV7 product options
Opt. HEVC

Add HEVC / H.265 codec support, main profile, all levels

Opt. CA

Add enhanced closed caption analysis capabilities; supports CEA608, CEA708 and SCTE20/21 captions

Opt. FLT

Add one additional floating license (all floating licenses include the same capabilities); for multiple licenses, order multiple Option FLT

Opt. LUD

Add MTS4EAV7 to a preexisting MPEG analyzer dongle (single user license only; cannot be ordered with Option FLT)
MTS4EAUP upgrade options
Software upgrade kit for MTS4EAV7, MTS4EAB, and MTS4EAF Version 4 or higher as well as MTS4000 Option ESE and Option ESB.
Opt. HEVC

Add HEVC / H.265 codec support, main profile, all levels. Base software must be V7. If not, then must order Option V7 as well.

Opt. CA

Add enhanced closed caption analysis capabilities; supports CEA608, CEA708 and SCTE20/21 captions

Opt. V7

Upgrade MTS4EA V4 or higher to MTS4EAV7 base software; also upgrade a single user license to floating license (except for MTS4000 Opt. ESE). If more than one floating license needed, then must order MTS4EAUP Option FLT to add extra licenses. Only available for MTS4EA V4 or higher.

Opt. FLT

Add one additional floating license to MTS4EAV7 (all floating licenses include the same capabilities). For multiple licenses, order multiple Opt. FLT. Floating license is not available on MTS4000 Option ESE or Option ESB.