Cloud Video Delivery Quality Control

Cloud Video Delivery Quality Control
Automated Live Streaming Monitoring
Live video streaming on cloud-based delivery network promises to meet viewer expectations to watch content anywhere on any device. Video OTT cloud networks adds new complexities and visibility challenges, requiring cloud based monitoring to assure the high quality delivery.
Technology Partner:

Member:


Read more about trends in next generation media
Maintaining Quality in OTT Environments
One of the biggest problems of the switch to OTT content is the need to ensure content coming in from multiple sources is encoded properly. Live cloud OTT workflows delivery to individual devices with multiple profiles, is a dramatic increase in complexity over one-size-fits-all traditional TV. This means checking for issues like over compression, misalignment of frames, syntax issues, dropped packets, lost markers and metadata, and compliance issues, all of which can lead to poor customer experience and high customer churn.
Tektronix addresses this problem by looking at the quality of content end-to-end through the video workflow, and scaling it to 1,000s of programs, allowing you to log, raise alarms, report on status, and notify of issues anywhere in the end-to-end system. This helps resolve issues quickly, before customers get impacted.
Proactive Automated Monitoring
In OTT delivery, another issue that must be addressed is to make sure that all the assets in all the profiles are available in the expected format, with the quality necessary to be delivered to the end customer. This involves validation of the asset in different profiles, which can be difficult if you don't have the tools to determine where problems are occurring within the workflow.
Tektronix offers proactive automated monitoring of all assets, in all formats, in real time, and logs a history of events. This solution can be deployed at any point in your workflow to pinpoint problem areas for a quicker mean time to resolution. It can also be consolidated into one view, so that when you see a problem, you can isolate exactly where it went wrong.
More on Aurora Automated File QC
Encrypted Network Visibility
Another problem in content streaming and OTT delivery stems from the fact that content is encrypted with DRM. Without being able to verify that customers are actually getting the quality of content they expect, it is impossible for providers to take corrective measures and maintain customer satisfaction. This leaves the door open for customer churn and lack of compliance reporting.
Tektronix addresses this issue by monitoring assets as they leave the packager, as well as checking the content as it's delivered to and from the cloud across multiple CDNs. This allows providers to maintain a consistent viewing experience regardless of location, ensuring customer satisfaction and industry compliance.
Featured Content
Maintaining High Quality of Experience in an Adaptive Bitrate System
White Paper
Let us empower you and your team to address new techniques for Over-the-Top (OTT), TV Everywhere, and multi-screen delivery with this technical white paper.
Download NOW
OTT Video Quality Checks & Unified Headend Workflows
Webinar
A review of current industry trends for both physical and virtualized ABR/OTT networks and the importance of having a common unified workflow in quality assurance.
Watch Now
Video Quality
Monitoring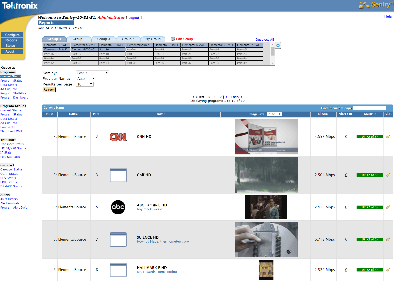 The quality of the content you deliver defines your brand whether it is streamed or broadcasted to your viewers. Sentry has been deployed worldwide by Cable, Broadcast and OTT Streaming service providers for use in operational, engineering and business environments.
Real-time QoS, QoE analysis and reporting
Perceptual video quality for MPEG2, H.264 and H.265 content
Real time artifact detection and compliance checks on each stream at each bitrate
IDR/EBP alignment monitoring
Adaptive Bit Rate
Monitoring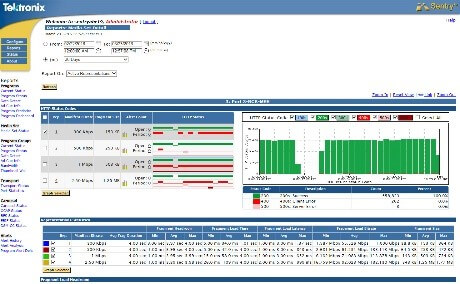 Sentry® ABR is part of Tektronix' end-to-end video quality and service assurance solution for monitoring OTT (Over The Top), TV Everywhere and multiscreen services that provides a comprehensive and scalable monitoring solution for post-fragmented adaptive bit rate (ABR) streams and supports both 1 GbE and 10 GbE interfaces.
ABR Decryption and DRM Support provides QoE and PVQ measurement for decrypted and decoded video and audio
Support for HLS, Microsoft SS, and MPEG-DASH streaming protocols
Simulation of a subscriber's request for content through retrieval of manifest files and fragments from any place on the network
Automated Picture QC
File-Based Workflows
Aurora is an automated, scalable file-based QC system that saves media providers time and money by driving efficiency, quality, and cost savings in their workflows. Aurora can be integrated with external workflow management tools in both on-premise and cloud deployments to check thousands of hours of content continuously with unattended operation.
Scalable, automated QC for file-based workflows
Perceptual Video Quality tests reveal video encoding issues for individual bitrate representations
Single QC report for all video and audio representations and manifest files
Facing challenges in other Next Gen Media applications?