Audio creation is perhaps the most challenging part of the whole video content process. The key tasks of the audio creation process happen separately from video ... but require coordinated content.
AMM768 is the monitoring solution designed for audio post-production and the best instrument for audio-only applications in the video industry.
Needs
Audio engineers in the post-production environment perform audio-specific tasks in the audio room for which they need to monitor audio content, but they do not need to verify video quality. For these tasks, a waveform monitor is not necessary; instead, an audio monitor instrument is required.
The main tasks in the audio post-production environment are:
Refine audio after the initial production

Filter noise
Adjust dialog levels according to the video sequences

Mix-in artistic audio content adequate to the video scenes with which it is associated

Add special effects
Incorporate background music

QC verification

Content free of errors (clips, mutes, clicks, pops)
Format compliance (adequate loudness, correct digital formatting)
The Solution
AMM768 is the audio monitor designed specifically for audio-only monitoring in video environments, and thus, the best solution for this kind of application. It provides multiple advantages that no other audio monitor combines in a single instrument:
Tektronix audio monitoring tools facilitate level, loudness and error verification:

The surround sound* display facilitates the analysis of 5.1 audio with an intuitive representation of channel volumes, phantom location and correlations.
"In-bar" messages show status conditions for each channel reducing the likelihood of an undetected audio problem.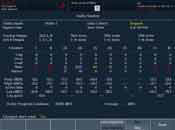 The audio session display provides the most intuitive and complete report of key audio quality parameters including loudness per channel, pair and program.
It also provides the total count of clips, overs, silences and mutes per channel for the duration of a program.

AMM768 allows for down-conversion of any type of input audio to its analog or digital outputs, and provides a convenient front headphone port for quick verification of any pair of channels (including LTRT).
Simplifies audio content coordination to video scenes. AMM768 is the only audio monitor that provides:

Picture Display - it eliminates the cost for a high-cost video monitor
CC decoding - it saves money by avoiding the need for an external CC decoder

Facilitates QC verification with the most powerful reporting tools:

The most advanced error log in the industry - captures up to 10,000 fault events for quick detection and correction
Ethernet, SNMP and Ground Closures interfaces provide flexible error reports

All these reports can be downloaded to an Excel spreadsheet for record keeping or additional analysis.
Scalable technology:

Supports options for Analog, Digital and Dolby monitoring in a single instrument. Only few instruments in the market support Dolby Monitoring
The AMM768 can be upgraded in the field to enable additional monitoring options
In Summary
The personnel performing audio-only tasks in post-production and TV companies:
Need to produce high quality audio content and assure proper coordination with video.
Do not need a waveform monitor to achieve their tasks.
AMM768 simplifies audio engineering tasks with its powerful audio monitoring tools and its unique capability to coordinate audio to video scenes.
*Audio Surround Sound Display licensed from RTW GmbH & Co. KG of Cologne, Germany.