Download Manuals, Datasheets, Software and more:
2230G High Power Programmable Power Supplies
Series 2230G power supplies provide up to 375 W of power in a compact 2 U high, half-rack wide enclosure. The 2230G-30-6 offers up to 6 A from two channels; the 2230G-60-3 offers up to 60 V from two channels. Adjustable, independent, and isolated channels can test two single voltage devices or a multiple voltage device with one power supply. Combine 30 V channels in series to increase voltage up to 60 V, or connect two or three channels in parallel to output as much as 15 A using the 2230G-30-6.
See all DC power supplies »
Learn about bench power supply basics »
Max V / Output
Up to 60 V
Interfaces
USB, GPIB, RS-232
Control Noise with Independent Outputs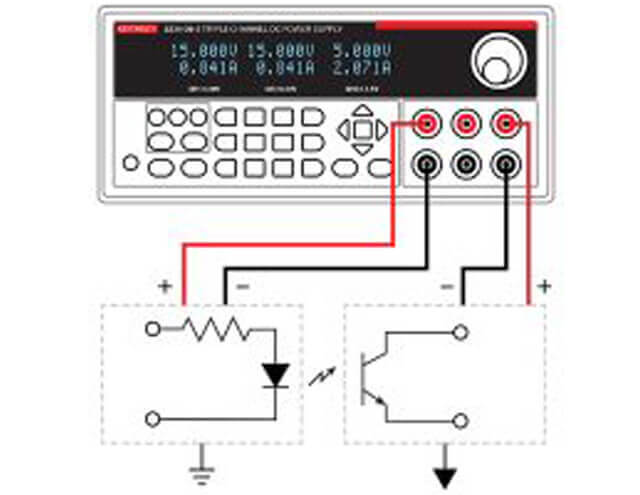 The 2230G power supplies can power circuits that are optically isolated or transformer-isolated from each other and have different reference points. The isolated channels eliminate the need for a second power supply for powering one of the isolated circuits. Additionally, each channel can be independently controlled and turned on or off at any time; control over each individual channel minimizes noise in the circuit.
Be Confidant in your Outputs
Each 2230G channel offers 0.03% basic voltage accuracy and 1 mV resolution setting and measurement, ensuring that the programmed output is accurately applied to the output terminals. Plus, using remote sense leads for each channel compensates for and overcomes voltage drops due to resistances in the test leads, assuring that the programmed voltage is applied to the load.
Automation Made Easy
USB, GPIB, and RS-232 interfaces enable complete control of the 2230G power supplies from a PC. LabView and IVI drivers facilitate instrument control, data logging, and analysis. Series 2230G power supplies can be controlled in either a semi-automated or full-automated test system with these drivers or software packages such as MatLab.

Control your instruments from your PC
Drive innovation through faster test & measurement with KickStart Software. KickStart instrument control software for the PC enables quick test setup, text execution and data visualization. By plotting data immediately and offering quick statistical summaries of the data in the reading table, KickStart allows you to gather insights faster and make the decisions you need to make.
Run tests on multiple types of bench instruments independently or simultaneously
Auto export data for long term logging
Replicate tests quickly using saved test configurations
Use built-in plotting, comparison and statistical tools to quickly discover measurement anomalies and trends
Configure tests using simulated instruments and swap in real instruments when available
See How