Contact us
Contact us
Live Chat with Tek representatives. Available 6:00 AM - 4:30 PM PST.
Download
Download
Download Manuals, Datasheets, Software and more: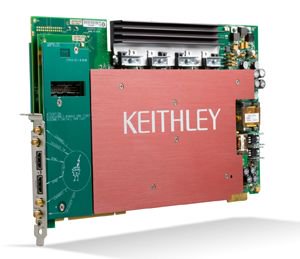 The Model 4225-PMU Ultra Fast I-V Module is the latest addition to the growing range of instrumentation options for the Model 4200-SCS Semiconductor Characterization System. It integrates ultra-fast voltage waveform generation and signal observation capabilities into the Model 4200-SCS's already powerful test environment to deliver unprecedented I-V testing performance, expanding the system's materials, device, and process characterization potential dramatically. Just as important, it makes ultra-fast I-V sourcing and measurement as easy as making DC measurements with a traditional high resolution Source-Measure Unit (SMU). Each plug-in Model 4225-PMU module provides two channels of integrated sourcing and measurement but occupies only a single slot in the Model 4200-SCS's nine-slot chassis. Unlike competitive solutions, each channel of the Model 4225-PMU combines high speed voltage outputs (with pulse widths ranging from 60 nanoseconds to DC) with simultaneous current and voltage measurements. With this combination of ultra high-speed voltage source and voltage and current measurement capabilities, existing Model 4200-SCS systems can be easily upgraded into a flexible measurement tool for a wide range of ultra-fast I-V test applications. Each chassis can accommodate up to four Model 4225-PMU modules, for a maximum of eight ultra-fast source and measure channels, leaving five other chassis slots free for installing other types of instrumentation. These hardware and software capabilities are also available for new Model 4200-SCS systems as factory-installed options.
Ultra-Fast I-V Applications for the model 4225-PMU Ultra-Fast I-V Module