マニュアル、データシート、ソフトウェアなどのダウンロード:
Classic Protocol Testers
K1297. This product is no longer sold

Features & Benefits
A Wide Range of Applications

Protocol Testing for Development, Operation, and Maintenance, with More than 100 Protocols

Multiple Interfaces for Narrowband Networks

Interworking Tests Over the Entire Network; One Tester, Easy to Connect to All Networks and Interfaces

Multichannel Capability

Powerful, Simultaneous Multiport Protocol Testing on Different Links Over the Entire Network

Wide Set of High-Layer Emulation

Reacts on Messages of a Specific Protocol Layer, Including High-Layer Protocols

Wide Set of Conformance Test Suites Based on TTCN

Automated Test-Case Selection Based on PICS and PIXIT

Wide Range of Filter and Trigger Functions for Monitoring

Easily Displays Special Events with Playback and Statistic Functions
Applications
Manufacturers of Communication Systems and Components
Functional Test During Development
Integration/Testing
System and Conformance Tests
Monitoring for Error Analysis
Functional Testing to Reproduce Error Situations
Private and Public Network Operators
Acceptance and Conformance Tests
Monitoring for Error Analysis in the Field
Functional Testing to Reproduce Error Situations
Private and Public Test Laboratories
Acceptance and Conformance Tests
Research and Teaching on Protocols and Test Methods
The K1297 Protocol Tester is designed for use in development and test-lab environments. In addition, the portable K1297 Compact Protocol Tester is ideal for service engineers performing difficult measurement tasks in the field, including installation and maintenance. All testing activities are supported by the following capabilities:
Monitoring - Displays the messages of a communication with features such as:
Real-time recording to RAM and/or disk (recording file)
Filtering for messages or message field content
Execution of trigger actions upon special events
Customized display for each layer
Choice of display modes to suit your needs
Simulation - Enables user to send messages and react on received messages. Messages may be sent directly on a communication channel or to an emulator for further processing. K1297 features include:
Simulation of multiple protocols in parallel
Simulation on different interfaces and communication channels in parallel
High-level SDL-based scripting language
High-level message building system enables you to build protocol data units on a mnemonic basis
Support of TTCN test description language
Emulation - The K1297 is able to react on messages of a specific protocol layer (as defined in the appropriate standard) automatically and without any programming. This allows you to focus on testing higher-layer protocols. The K1297 provides:
Emulations for most L2 protocols
Conformance Testing - Tektronix offers a wide set of ready-to-use standardized test suites for protocol verification featuring:
Automated test-case selection based on PICS (Protocol Implementation Conformance Standard) and PIXIT (Protocol Implementation Extra Information)
PICS and PIXIT changes may be performed online without recompiling
Test execution in test case per test case, a set of selected test cases, test group, or whole test suite
Full featured test result reporting
Advanced error debugging utilities
Remote control of test cases by using TSP1+
Support of compiling TTCN test suites with Tektronix TTCN compiler
Equipment Configuration
All K1297-Classic Applications are running on K1297-Classic (on limited supply) or in the compatibility window of K1297-G20 (see Product Summary K1297-G20 Base Software).
K1297-Classic Base Software
The user interface for test programs is comprised of menus, function keys, and software commands as executable FORTH words. Depending on the type of the application program, integral software tools such as the SDL-style test manager and message building system also provide user interfaces. To generate test scenarios in SDL, it is possible, for example, to use any editor with an ASCII. The scripting language facilities offered by the SDL-style test manager are employed for programming the test scenarios through an editor.
Monitoring - With K1297-Classic software, a monitoring program is loaded to allow passive reading of the data on the signaling lines. In most cases, the K1297 is connected using special monitor jacks, as in the case of the PRIME module.
Simulation/Emulation - In this operating mode, the K1297 is active and replaces one or more communication partners of the implementation under test. A K1297 that has been fully equipped with PRIME modules can simulate up to 16 (12 for K1297 Compact) physical links.
The drop-and-insert mode constitutes a special form of simulation. Unlike active monitoring, where no changes are made to the protocol, this mode allows the user to intervene in the protocol.
Conformance Tests - Conformance tests are based on the principle of simulation/emulation and comprise a series of test cases that are, in turn, based on corresponding test specifications, for example, ETS 300 324-3 for V5.1. A distinction is made between traditional conformance tests, acceptance tests, validation tests, and compatibility tests. A test series (test suite) mainly consists of several test groups, subgroups, and test cases. Similarly, test cases can also consist of initialization sequences, preambles, test steps (partial tests), verification sequences, and postambles. After being executed, each test step, test case, test group, and test suite is given a verdict: pass, fail, or inconclusive. Before they are executed, test suites are parameterized in PICS and PIXIT menus. The generated conformance test reports are ISO IS9646-3 compatible.
ASN.1-Compatible Concurrent TTCN (Tree and Tabular Combined Notation) Compiler - Besides other programming languages and tools supplied in the application software packages, a TTCN compiler (which complies with ISO IS9464-3 TTCN, reference number ISO/IEC 9646-3: 1992(E) and the changes in TTCN Edition 2, Delivery 6) is also available as an option for the K1297. The TTCN compiler is also capable of processing and converting ASN.1 data structures into K1297 format.
K1297-Classic Application Software
Core

MPT and SCCP Simulation  
Core Features and Benefits
Flexible and Reliable Signaling Testing in the Core Network
Efficient Protocol Analysis of the Core Network
Call-Trace and Call-Sequence Monitoring in the Signaling System No. 7 (SS7)
Connect up to 8 Signaling Links and up to 16 Timeslots for SS7/IN
Support for Standard Interface Boards

E1 or DS1 for SS7/IN Network

Processing of Almost All Worldwide Basic SS7 Protocols (ITU-T (White Book, Blue Book), ANSI/Bellcore, ETSI, MOU)
Variety of Customized Protocol Packages for SS7/IN
Core Applications
Monitoring, Simulation, and Emulation Capabilities for SS7 Including IN
Troubleshooting in the Core Network
Detection of All Activities in the Core Network
Acceptance Testing
Conformance Testing
Suitable for Network Manufacturers and Providers as Well as in the Laboratory and Development Environment
Core Software Packages
Monitoring
Several software packages for SS7/IN network monitoring and network analyses are available.
Simulation/Emulation
Simulation and emulation software packages are available. They support simulation of many SS7 protocols (MTP, SCCP, TUP, ISUP, TCAP, INAP) as well as emulation of the MTP Level 2 protocol.
Conformance Testing
Test suites for conformance testing of the SS7/IN network meet international, European, and national test standards. Capabilities are detailed in the K1297/K1205 Protocol Testers Data Sheet.
National Variants for SS7/IN Network
Numerous national and international protocol variants are offered.
Access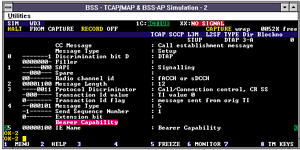 BSS Simulation  
Access Features and Benefits
Covers Most Areas of Public Switching Access Network and Access Protocols:

ISDN (ETSI, ITU)
QSIG (ETSI and ITU), DPNSS1
NMDS
V5.1/V5.2 (ETSI), GR303
Packet Services for ISDN (X.25, X75, PHI - Packet Handler Interface)

End-to-End and Interworking Testing Support
High-Layer Emulations with Automated Call Generation for Some Protocols Available
Tests the Entire Range of Public Switching with a Single Tester
Comprehensive Testing with Wide Range of Up-to-Date Conformance Tests
Replacement of Expensive IUT Counterparts by K1297 with High-Layer Emulation
Access Applications
In-service Error Detection at Almost All Interfaces in the Public Switching Access Network Areas
Protocol Implementation Verification for Manufacturers, Test Labs, and Operators
Functional and Regression Testing
The Customers Can Replace the Communication Partner of the Implementation Under Tests (IUT) by the Protocol Tester with the Appropriate Access Application Emulating the Replaced Network Element
Access Technology Overview
ISDN
ISDN protocols are used between an ISDN handset/telephone (USER) and the ISDN core network (NET). K1297 software packages may be used for testing USER as well as NET. The protocol is usually transferred on the following physical interfaces:
Basic Rate Interface/Access (BRA/BRI) offering 2 64-Kbps bearer channels and a 16-Kbps D-channel for signaling. Tektronix offers physical interfaces for the S0 and Uk/U2B1Q reference points
Primary Rate Interface/Access (PRI/PRA) offering 30 64-Kbps bearer channels and a 64-Kbps D-channel for signaling. Tektronix offers physical interfaces for the S2m reference points with E1 or DS1 interfaces
DPNSS1
Digital Private Network Signaling System: A predecessor of QSIG used for digital private network signaling.
QSIG
This protocol is a special application of ISDN and used between ISDN private branch exchanges (PABX) connected indirectly through the ISDN core network. The QSIG protocol components are passed through the core network transparently from one ISDN PABX to another PABX. The K1297 protocol packages allow all applications to be applied to this special ISDN protocol aspect.
NMDS
NMDS is an extension ISDN by full V5.1-like PSTN (analog line) capabilities. This is accomplished by transferring the V5.1 PSTN protocol in parallel to the ISDN protocol on the same interface.
Note: NMDS requires a BRI.
V5.1/V5.2
These are ETSI protocols families used between the core network and the access network. These interfaces support the transparent exchange of ISDN signaling information and provide protocols for support of analog line interfaces. V5.2 in addition to V5.1 provides concentration and protection functions. Both protocols are usually transferred over E1 links.
The V5.1/V5.2 packages also support the handling of basic ISDN protocols.
GR303
This is an ISDN-protocol-based protocol for communication between the core and access network. The protocol is defined by Telcordia and mainly applicable for the USA. It has similar functions as the V5.2 interface and requires DS1 interfaces.
Packet Services for ISDN
X.25, X75, and PHI - Packet Handler Interface protocols are available. This is a packet-switching protocol. All ISDN packages support the X.25/X.75 protocol in the B-channel PHI is according to ETS 300 099 from April 1998.
Software Packages Access
Monitoring
These packages decode received messages into a human-readable format for a set of different protocols. They offer all the standard monitoring features as given in the K1297 Hardware and basic Software section.
Various packages are available for monitoring functionality.
Simulation/Emulation
These packages allow generation of messages with the MBS, and sending as well as receiving messages on an interface. The Emulation packages in addition offer emulations of different protocol layers.
K1297-Classic offers simulation and emulation functionality. Packages have the same protocol content as the appropriate monitoring packages with usually at least a Layer 2 emulation added.
Packages are available to add high-layer emulation capabilities to the simulation packages.
Various packages are available for simulation/emulation functionality.
Conformance Testing
Implementations of various test suites are available for:
ISDN with international, European, and national test standards
V5.1 and V5.2 ETSI test suites for LE (Local Exchange), AN (Access Network), DLL (Data Link of AN and LE)
These implementations use the features of TTCN:
Running of entire test suites or selection of particular test groups and cases
Report and logging options for every purpose
National Variants
There are extension of the K1297-Classic monitoring and simulation packages available adding national and international variants for:
National variants for Europe
National variants for America
National variants for the rest of world
Mobile Radio Network
Mobile Radio Network Features and Benefits
Uses E1 or DS1 Interface
GSM/DCS 1800/PCS 1900:

Phase 2, BSSAP, DTAP, TCAP/MAP, SS PROTOCOL, SMCP, SMRP, SMTP
Abis (64 Kbit and 16 Kbit)
CAMEL AP
MAPV3

CDMA:

IS634, IS637, IS41B, IS41C, IOS2.4

Open Interface: Lets User Send Faulty Messages (e.g. to a BSC to Test How the BSC Reacts to Errors)
High Flexibility: User Can Program Own State Machine, Adding to Standardized Scenarios
Mobile Radio Network Applications
Simulation of Different Network Elements of a Mobile Network (Including HLR, VLR, and Others) Simultaneously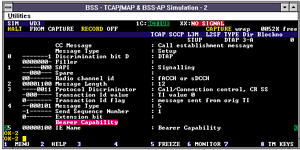 BSS Simulation  
Software Packages Mobile Radio Network
Monitoring
Monitoring of up to 8 E1/DS1 links
Selectable from short to complete depth of decoding for each layer
Trigger and filter mechanism
Selectable color per data direction
Simulation/Emulation
Simulation on up to 16 E1/DS1 links at the same time
Flexible state-oriented programming interface
Emulation of MTP Layer 2 protocol
Simulation of different SS#7 Layer 3 connections on the same interface
Up to eight simultaneous and independent state machines (Test Manager)
Communication mechanisms between different Test Managers
Message Building System
National Variants
GPRS

GPRS BSS Simulation  
GPRS Features and Benefits
Support for Standard Interface Boards and All Essential GPRS Interfaces - A Single Test Solution for All Protocols and Interfaces Offers Flexible and Reliable Testing of GPRS Signaling and Data Transmission in the GSM Network
Efficient Analyses of GPRS Protocol Functionality - Quick Switching Between Test Scenarios With Minimal Reconfiguration
Combined Testing of Complete GSM Network and GPRS - No Need to Maintain Separate Test Equipment for Each Technology
Prepared for Future GPRS Implementations based on IS136 - Today's Investment is Ready for Tomorrow's Developments
K1297 Can Replace Expensive IUT Counterparts with High-Layer Emulation and Controlling Scripts - Drastically Reduce Equipment Development and Integration Costs
GPRS Applications
GPRS Monitoring, Simulation, and Emulation
In-Service Error Detection for most GPRS Interfaces in the GSM Network
Detection of All Activities in the CORE Network
Protocol Implementation Verification for Manufacturers, Test Labs, and Operators
Functional and Regression Testing Combined with Basic Load Testing Capabilities
Acceptance Testing
Conformance Testing
The Protocol Tester Can Replace the Implementation Under Test (IUT). Scripted Configurations Control the GPRS Emulation, Allowing the Tester to Behave Like the Replaced Network Element
User Layer Testing with Standard Windows NT-based Applications including Web Browsers, Web Servers, FTP Clients, FTP Servers, and WAP Applications
Software Packages GPRS
Monitoring
These packages decode received messages into a human readable format for a set of protocols. They offer all the standard monitoring features described in the K1297 HW and basic SW section.
Four PRIME boards supported, each offering 2 monitoring ports and 4 bidirectional time slots
Frame Relay with channelized, unchannelized, and fractional mode
Monitoring of 4 Ethernet Interfaces in unidirectional mode
Monitoring of 2 Ethernet Interfaces in bidirectional mode with active monitoring
There are various packages (see ordering information) for monitoring functionality available.
Simulation/Emulation
These packages support message generation with the MBS and sending/receiving of messages on an interface. Various protocol layers can also be emulated.
Four PRIME boards supported, each offering 4 ports and 8 time slots
Frame Relay with channelized, unchannelized, and fractional mode
Simultaneous simulation and emulation of several GPRS connections
Communication mechanisms for data exchange between various test programs
Communication mechanism using a virtual Ethernet driver between Windows NT and GPRS simulations/emulations
Packages for simulation and/or emulation of all layers up to the user IP layer for the Gb, Gi, Gn, Gr, and Gs interfaces are available.
Conformance Testing
Since standards for GPRS conformance tests are yet to be defined, Tektronix is developing multiple test suites in cooperation with leading GPRS manufacturers. The main protocol layers to be tested are NS, BSSGP, LLC, SNDCP, and GMM/SM on the Gb interface because these protocols are completely new developments for GPRS. GPRS conformance tests are prepared for GTP testing on the Gn interface.
Characteristics
System Software
Basic Functions of the K1297-Classic Software
Report Generation - Decodes of OSI-layers 1 to 7 (protocol dependent).
Value displayed as:
Hexadecimal, decimal, character (ASCII, EBCDIC), mnemonic, block, or time.
Time Stamps - Transmitted and received data, and signal state changes of control lines are provided with time stamps
Resolution: Min. 1 µs
Accuracy: Min. 125 µs
Data Acquisition - Data signals can be acquired and passed on up to 3 destinations at the same time:
To the Monitor window.
To the Recording File.
To the Capture RAM.
Filter - There are separate filters for each destination: Monitoring window, recording file and capture RAM. Each filters for interface events, frame events, or trace messages.
Trigger - Up to four independent triggers for: Interface events, full capture RAM, and full disk.
Disk Functions - Data recording in wrap and full mode, data playback, direction of data in capture RAM to disk and vice versa.
Simulation Features - (Depending on application software.)
Message Building System for all supported protocols -
Menu-controlled creation and storage of PDU frames and messages.
User and application parts in message pools.
Editing in hex and mnemonic form.
Pasting of messages from monitor to message pool.
Display of generated messages.
Renaming, deletion, and insertion of messages in pool.
Auto and manual mode for information element sequencing.
Simulation Principle - The SDL-style test manager utilizes the State Machine concept (Cf. CCITT Z.101 to 104 (today ITU-T), SDL) for protocol simulation and performing interactive tests. Elements of the State Machine include:
Current state, actions to be executed, state changes, follow-up state.
Test Manager -
Up to eight independent test managers (parallel processes) per application.
SDL style programming.
Up To 256 states per test manager.
Test manager status window with states.
Level 2/Layer 2 address information, and Layer 3 CR/PD information.
Print Function - Contents of capture RAM, recording files, and message pools. Print function interfaces with Windows print function (this allows printing to an ASCII File).
Counters - Unlimited number of programmable counters (depending on RAM capacity).
Timers -
128 programmable software timers
Resolution: 20 ms
TTCN Software Packages for K1297-Classic
TTCN (according to ISO 9646-3) is an abstract test description language. Test suite specific adaptations are inevitable and always necessary to adapt an ATS (abstract test suite) to a particular protocol tester platform. For generating and compiling self-defined TTCN tests (for example, conformance tests) Tektronix offers the following software products:
TTCN MP Compiler
Abstract test description language
Conforms to ISO/IEC 9646/1-7
Full ASN.1 support
Including concurrent TTCN
TTCN-RTE (Run-Time Environment)
Required to run TTCN test cases on other K1297
Included in conformance test packages (See software product summaries for Mobile Radio Network, ACCESS, Core, etc.)
TTCN Adaptation File Preparation
In the K1297, two files are used to realize those adaptations: SPECIAL and INI files. Both files are necessary for compilation of an ATS on the K1297 with the TTCN compiler (7KK1297-8DT11) and have to be modified to each ATS. Tektronix can prepare custom SPECIAL and INI files on request.