Download Manuals, Datasheets, Software and more:
Advancing Techniques of Failure Analysis Using Source Measure Units and Lock-in Thermography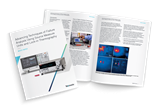 Lock-in Thermography is one technique for quickly identifying hotspots on a semiconductor device to help determine the location of a failure and continue the investigation to determine root cause.  Lock-in Thermography reduces the need for destructive testing and helps to overcome the challenges that failure analysis presents at the package level, resulting in faster time to answer, more efficient use of the failure analysis engineer's time, and cost savings to the organization.  This application note describes how instruments like the Keithley 2601B-PULSE SourceMeter® 10 μs Pulser/SMU Instrument and a LAN/Ethernet enabled IR thermal camera minimize the challenges of integrating advanced instrumentations to conduct the measurements.