Contact us
Contact us
Live Chat with Tek representatives. Available 6:00 AM - 4:30 PM PST.
Download
Download
Download Manuals, Datasheets, Software and more:
PSPL5882 Datasheet
PSPL5882 40 Gb/s Broadband Amplifier Datasheet
The products on this datasheet are no longer being sold by Tektronix. Contact Technical Support for alternative products View Tektronix Encore for used test equipment Check support and warranty status for these products Find more support information for these products

More Information
Read Online:
The PSPL5882 is extremely broadband, covering over 6 decades from 25 kHz to 35 GHz. It also demonstrates a very clean time domain response, resulting in high quality 40 Gb/s eye diagrams. The PSPL5882 includes internal reverse voltage protection, power supply regulation, and sequencing circuitry, making it insensitive to power supply voltage variation and application sequence.
Key performance specifications
Electro-Absorption Modulator driver or optical receiver amplifier
Linear amplifier with 16 dB gain
25 kHz to 35 GHz bandwidth
2.7 Vamp eye amplitude
9 ps rise time
Typical 40 Gb/s eye measurements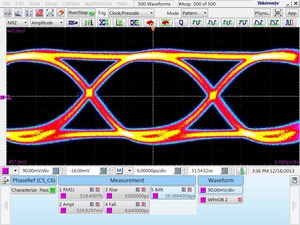 Input from Tektronix PPG4001, PRBS = 2
31
–1, 525 mV

Output amplitude, 3 V
Typical performance

S11, 5 dB/div, 5 GHz/div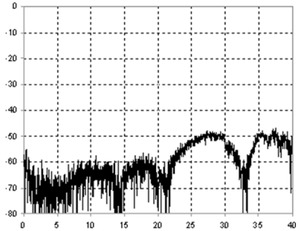 S12, 10 dB/div, 5 GHz/div

S21, 1 dB/div, 5 GHz/div

S22, 5 dB/div, 5 GHz/div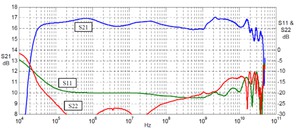 Typical S21, S11, and S22 from 10 kHz to 50 GHz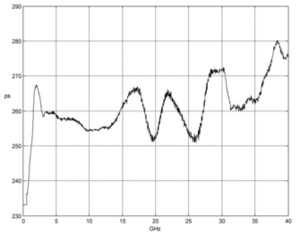 Typical Group Delay (10 ps/div, 5 GHz/div, 0.8 GHz aperture)

Typical Step Response (input signal is 16 ps fall time)

Specifications
Parameter
Symbol
Units
Minimum
Typical
Maximum
Comments
Impedance
Z
ohms
 
50 
 
 
Upper 3 dB freq.
fc,h
GHz
30 
35 
 
Relative to gain at 100 MHz
Lower 3 dB freq.
fc,l
kHz
 
25 
40 
 
Small Signal Gain
S21 
dB
14.5 
16 
 
Measured at 100 MHz
Gain Ripple
 
dB
 
±1 
±2 
50 MHz
Max Power Out
(-1 dB gain comp)
P1 dB
dBm
 
12 
11 
 
f 25 GHz ≤ f
Output Eye Voltage
VOUT
Vamp
2.4 
2.7 
 
Vin = 0.6 Vamp, 12.5 Gb/s PRBS
Input Return Loss
S11
dB
 
-18 
-10 
-14 
-8 
50 MHz 10 GHz ≤ f
Output Return Loss
S22
dB
 
-13 
-10 
-10 
-8 
50 MHz 10 GHz ≤ f
Rise Time
tr
ps
 
9 
 
10-90%, root-sum-of-squares extraction, 16 ps system rise time
Fall Time
tf
ps
 
9 
 
Overshoot
 
%
 
7 
 
1 ns window, 16 ps system rise time
Undershoot
 
%
 
7 
 
Noise Figure
NF
dB
 
6 
 
Measured at 1.5 GHz
Group Delay Variation
 
ps
 
±20 
±30 
3 GHz 0.8 GHz aperture
Polarity
Non-Inverting
Coupling
AC, input and output
DC Connector
Solder pins
Voltage Supply (+)
+VDC
VDC
7 
8 
9 
 
Voltage Supply (-)
-VDC
VDC
-5.5 
-5 
-4.5 
 
Supply Current (+)
+IDC
mA
 
155 
 
 
Supply Current (-)
-IDC
mA
 
10 
 
 
Max Allowed Input
 
dBm
 
 
16 
Input damage threshold
DC Voltage applied to RF Input or Output
 
VDC
-4 
 
8 
Damage threshold
Operating Temp
TCASE
°C
0 
 
70 
Case temperature
RF Connectors
2.92 mm or 2.4 mm jacks (f)
Warranty
One year
Ordering information
Models
PSPL5882

AMPLIFIER, 40-45 GHz, 16 dB GAIN
Options
Opt. 240JJ

Female 2.4 mm connectors on Input and Output

Opt. 292JJ

Female 2.92 mm connectors on Input and Output